Experienced Xero Set Up and Customisation Specialists
Get help with your Xero Setup from a Xero Expert, Xero Gold Partner and Certified Xero Advisor, customise your invoice and your settings to your specific requirements.
We can help with your Xero setup or setting up your new Xero datafile and customising it to your specific needs. Customise your invoice template and your backend settings. We are a Xero Gold Partner and Certified Xero Advisors who are working BAS agents and experienced bookkeepers who use Xero all day, every day for a number of small businesses in a number of industries.
It is quite important that Xero is set up correctly from the start

so you can be assured that the data and reporting being produced is accurate.

We are Gold Xero Partners and Certified Xero Advisors

so know Xero inside and out.
We are local Sydney bookkeepers based in Belrose on Sydney's Northern Beaches and specialise in Xero accounting software

We have many years of experience assisting numerous businesses in many different industries using Xero accounting software

The initial Xero setup for your new business takes place in our office in Belrose on Sydney's Northern Beaches (pre Covid19)

during a two hour session

We can also setup Xero through a virtual process if preferred anywhere in Sydney or Australia using Zoom
Expert Xero Setup and Included Xero Training
We provide practical initial training during this initial setup process

so you can be up and running, invoicing clients in no time.

Xero is a practical program best learnt by using it but it is always good to have some professional

guidance and training to begin with plus we offer ongoing t

elephone and email support

afterwards should you need it.
So, if you need help setting up your Xero datafile in Sydney or on the Northern Beaches, then give us a call or send us your details via our contact form.
We find most clients we set up on Xero come back for a further couple of hours training after a few weeks so we can check what they have been doing and give them a bit of feedback and answer any questions they may have.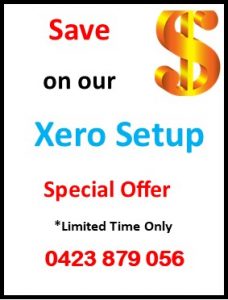 Xero Setup Special Offer
We are currently offering $100 off our usual Xero set up fee for a limited time only plus you could save 50% off your monthly Xero subscription for up to 5 months.
Xero Setup : What's included?
Xero Subscription Trial & Special Offer
We will set you up on a free trial for 30 days.
We usually then receive a special code for 3 months at half price or better which is Xero Partner related only but carries over to you once we transfer the subscription over to you.
We currently are offering $100 of our normal Xero setup price plus 50% off your Xero monthly subscription for up to 5 months.
Organisational Settings
We will start from the beginning with your

Organisational settings

which include your business name, ABN, address, website, etc.
Financial Settings
We move onto your

Financial settings

to make sure you are set up for GST or not, monthly or quarterly BAS, PAYG withholding if you are an employer, etc
Chart of Accounts
Next we go over your

Chart of accounts

, we make sure you have your default GST codes set up right. We add new accounts specific to your business and remove ones which will never be needed.
We make sure your ledger accounts are categorised so that your expenses and income come into your Profit and Loss and your assets and liabilities show up in your Balance Sheet
Reporting and Customisation
We will explain about reporting and customisation so you can produce the reports you need for your business.
Invoice Templates and Customisation
We will set up your

Invoice template to look professional including adding your logo

if you have one.
It is important to have your trading terms and bank details on your invoice correctly.
We can also customise the standard Xero invoice template to suit your specific business needs.
Email Templates and Customisation
We can set up your standard e

mail template

s for your invoices, statements, quotes, etc so you don't need to type up each one individually.
The standard ones in Xero do not have very good wording for a professional business.
You can always edit the email or add to it each time if you need to and send a copy of the email to yourself as a default so you have a copy for your records.
Bank Accounts and Bank Feeds
We set up your ba

nk accounts in Xero

Then set up the bank feeds if you bank with one of the big four banks, they are fairly straight forward to get started so you can see your bank transactions feed into Xero almost instantly.
For some other banks, the process takes a little while longer and the process is different.
We have had experience setting up various banks over the years and if the feeds don't start when they should, we will contact Xero support on your behalf to speed up the process.
We will bring in your missing bank transactions back to your set up date or the date you started your business so you have all of your transactions in Xero for the full financial year or period required.
We will make sure the balance in Xero reflects your actual bank account balance, this is called a bank reconciliation. Whilst Xero handles bank feeds really well, there are the occasional issues where bank transactions are missed or doubled up.
Transaction Coding and Bank Rules
We will show you how to get started coding off your bank transactions by setting up a number of bank rules for recurring bank transactions such as bank fees or interest.
Learn how to email your paperwork into Xero so that you have a bill in the system for easy reference
Learn how to code off one off transactions to the relevant ledger account.
Learn how to run a report to view your account transactions and confirm your account codings.
Need to Get your Accounts Up to Date
Once we have completed your Xero setup, you decide it is best that we finish tidying up your accounts to get you up to date, we can do that too, before you take over going forward with a nice tidy xero file.
Xero Pricing
After your initial Xero setup, you will need to pay Xero a monthly subscription which currently starts at $52 a month for most standard small businesses with 1 or 2 employees.
If you have any employees, we suggest you the sign up for the $65 plan to take advantage of the Xero Auto Superannuation option.
If you are a very small new business with limited transactions, we can set you up on one of our Xero Partner Plans starting at $25 a month.
Benefits of Having a Xero Expert Set Up Your Xero Datafile
Cloud based bookkeeping, you can use it on either a Mac or PC
You can use Xero on your phone or tablet or ipad
Xero is always up to date, you don't need to update software all the time
You can have as many users as you like on Xero and grant them various levels of access
You can get easy assistance from your local Xero Certified Advisor because we can see what you have done straight away and can assist in real time.
Payroll is easy once it is setup correctly and you can grant employees access to enter timesheets and allocate their time against jobs if you need to.
Xero is STP compliant and is easy to do once it is setup correctly.
Xero makes paying your superannuation for your employees easy once it is setup correctly
Xero Set up Video
If you want to have a go at setting up your new Xero datafile, have a look at the following video first. If you then decide you would like some help, please contact us. We can usually assist you within a few days.
Xero Add On Apps to think about with your Xero Set up
Find and connect beautiful apps for your business.
There are more than 700+ applications which integrate with Xero to assist small business with their daily practices and cloud accounting.
Speak to one of our Northern Beaches Bookkeeping Solutions consultants to determine which Xero add-on tools could be beneficial for you.
Additional Xero Training & Assistance
After your initial Xero setup, you may decide to book in for a little more one on one Xero training after your Xero Health Check so you can use Xero efficiently.
We have different types of Xero training. You can view more details on our Xero Training page.
Back to homepage Bookkeeping Services
Our Experts Xero Set Up Service Area
We work remotely from our office in Belrose assisting small business set up a new Xero datafile. We can assist all over Sydney and Australia specifically on the North Shore and Northern Beaches,
Free No Obligation Consultation
We offer a free no obligation 15 minute telephone consultation to discuss your requirements.